Plant Music Therapy™
The Sound of Healing
The Creation of Plant Music Therapy™ was inspired by a series of spiritually guided events.
Teresa, the Plant Music Whisperer, had a vision when introduced to a singing Birch tree while visiting
The Federation of Damanuhur
in Italy.
That vision included Pixie, the Prayer Plant and a new form of Sound Healing was created.
---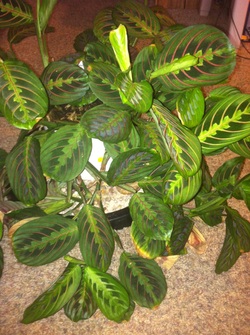 Pixie, the Prayer Plant was born in the spring of 2007.

She grew up at L & M Garden Center in Berthoud, CO and this is where she

met her partner, Teresa Helgeson. It was love at first sight and a beautiful

relationship formed over the years with Pixie teaching Teresa everything she

could about the plant kingdom.

Pixie is a very inspiring teacher who continually amazes those she meets.

She has traveled all over the west coast and has a cathartic way of

reaching deep into the hearts and souls of everyone who hears her music. A

Diva of a plant whose melodies and soft gentle harmonies relax the mind and body and bring a sense of Peace
and Well-Being!

---
---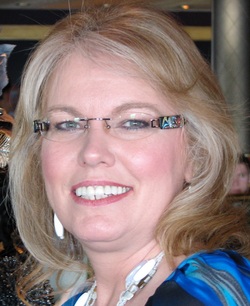 Teresa Helgeson, CHt, RMT became a Certified Hypnotherapist at the Day of Miracles School of Integrative Healing in 2003 with specialized training in Cellular Release Therapy™ and Medical Hypnosis. She studied sound healing with sound pioneer Jonathon Goldman in 2006 and became a member of the Sound Healer's Association. In 2008 she attended the International Center for Reiki Training and became an Usui Reiki Ryoho Reiki Master and Karuna Reiki Master. She continued her studies through the Infinite Light Healing Studies Center, Inc where she became a Reiki Crystal Practitioner and Reiki Drumming Practitioner.
Teresa started her journey into the healing effects of plant music on the body, mind and spirit in 2014 and has since been known as the Plant Music Whisperer. The results of her Pilot Study have put her in high demand to present her findings at conferences around the country including the ISSSEEM Research Symposium and the Subtle Energy Retreat.

---
---
Pilot Study Abstract and Results

---
Pilot Study pictures of Live Blood Cells
Before and After a Plant Music Therapy™ Session.


---
---
Disclaimer
Plant Music Therapy™ and Pixie's Sound Gardens™ is a trademarked name and any use of it is protected under the US Trademark Laws. All recorded and printed materials are copyrighted by Plant Music Therapy™ and Pixie's Sound Gardens™ and any unauthorized duplication of these materials is strictly prohibited.

While Plant Music Therapy™ music may contribute to wellness, it is not intended to replace medical diagnosis and treatment. DO NOT listen to Plant Music Therapy™ music while driving or operating heavy equipment or at a time when you need to be alert and awake. If you have a tendency towards seizures, auditory disorders, or other adverse mental conditions DO NOT listen to Plant Music Therapy™ music without first consulting your physician. In the unlikely event that you experience any unusual physical or mental discomfort, discontinue use immediately. All claims whether expressed or implied, including merchantability and fitness for a particular purpose are disclaimed. These statements have not been evaluated by the Food and Drug Administration. This product is not intended to diagnose, treat, cure, or prevent any disease.

​Information on this site is provided for informational purposes only and is not meant to substitute for the advice provided by your own physician or other medical professional. The results reported may not necessarily occur in all individuals. Plant Music Therapy™ is providing this site and its contents on an "as is" basis and makes no representations or warranties of any kind with respect to this site or its contents. Except as specifically stated on this site, neither Picie's Sound Gardens™ nor any of its directors, employees or other representatives will be liable for damages arising out of or in connection with the use of this site. This is a comprehensive limitation of liability that applies to all damages of any kind, including (without limitation) compensatory, direct, indirect or consequential damages, loss of data, income or profit, loss of or damage to property and claims of third parties.
© 2014-2017 All Rights Reserved
​