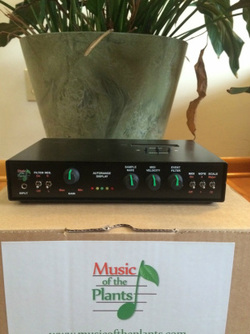 The Plant Music Therapy™ device is a magical machine from
Damanhur
that turns the electrical impulse of a Plant into musical notes.
Silvia "Esperide" Buffagni writes in
The Music of the Plants
, "Countless tests, many prototypes and re-workings of the basic technology have refined this device, making it ever more precise: these forty years of experimentation seem to tell us that plants realize that it is they who are determining the sequence of notes emitted by the device, and therefore they modulate it intentionally. They do not just react to stimuli from their surroundings but can be 'trained' to use the device increasingly well, to respond to the human voice or to someone playing an instrument. Plants 'remember' their training and over time they learn to interact in an ever more sophisticated and precise way with their audience. Indeed, highly trained plants, capable of masterly performances, are able to teach other plants, significantly reducing learning time compared to training carried out by human beings."
This device has many implications and possible uses (the more I work with it, the more I discover). I host Plant Concerts, offer Plant meditations, and include the device in my Plant communication courses and consultations with my clients. And I of course, will have the Plants play as I go about my day, providing incredible background music. One of my favorite things to do is to take a nap while a Plant is playing.
Other possible uses include:
- Musicians - including the Plants in your performances or recordings
- Healing Centers, Spas, Doctor offices, Schools, Daycare centers, Animal shelters, Nursing homes - allowing the Plants to provide background music (my experience is that this is calming to listen to)
- Healers - including the Plants in your practice
- Birthing Centers - In Damanhur, many pregnant women listen to their favorite Plant play throughout their pregnancy, then this Plant plays during the delivery, helping the Mother and Baby to be calm (though they do turn it off when the mother is ready to push)
- Gardens, Botanical Centers, Nurseries - provide a more interactive environment for your guests
- Research - there are many areas that can be researched here from Plant intelligence to the biological effects this has on us to the effects it has on Plants and more
- Personal homes - I and my customers enjoy hearing the Plants play, it really adds something special to the day. And there is so much to experiment with and so many Plants to listen to.
- And more!
Purchase your own Plant Music Therapy™ device below!
NOTE!
-
You will receive an email within 24-48 hours of placing your order with shipping expectations.
Please feel free to email me with any questions at info@PlantMusicTherapy.com.
---